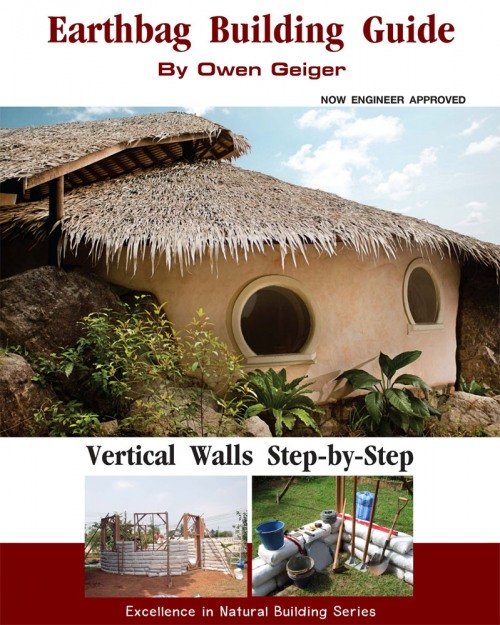 Earthbag Building Guide by Owen Geiger, 2011. Much has been learned about earthbag building over the last few decades through research, trial and error, and sharing of information. It is becoming increasingly clear what works best and why. This book pulls the most practical ideas together and will help take this movement to the next level.

This builder's guide does that by providing simple, clear explanations of each step of construction, from earthbag foundations that don't require concrete, to complete information on tools and supplies, as well as tips, tricks and advanced earthbag techniques.

All major aspects of building earthbag houses with vertical walls are covered: Planning; Dirt cheap building techniques; Building code issues; Electrical and Plumbing; Cost estimating; Insulation; Landscaping options. It is profusely illustrated with about 185 color photos and detail drawings. This is now available as a PDF download for $20.
As a companion to this book, consider buying Owen's Basic Earthbag Building DVD, available for $28.
A link to download the  Earthbag Building Guide will be sent to you within 24 hours of your purchase.
PDF
earthbag Building Guide


$20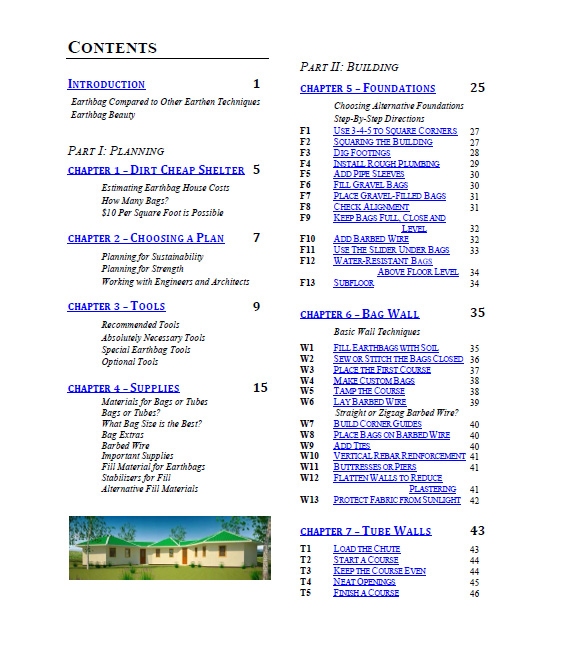 Reviews of the Earthbag Building Guide
"This book is very useful for anyone interested in working with earthbags…even those who have experience, since there are many new and innovative concepts presented. It embraces all aspects of safely constructing vertical earthbag walls, discusses ways to insulate and plaster them, and talks about roof options and other details. It even introduces the revolutionary Hyperadobe concept from Brazil! This is a powerful resource." Kelly Hart, owner/developer GreenHomeBuilding.com
"This book will expand our thinking about how we build and where we live. The point-by-point instructions are a wonderful quick reference, and the detailed explanations explain every aspect of each step from foundation to roof." Troy Griepentrog, editor Mother Earth News Magazine
"I've got to say TREMENDOUS JOB! The look is excellent, the length is excellent. You really seem to cover the whole process and I like your step-by-step explanations. I read the whole thing in one sitting. I will use this as a reference manual next time I build." Here's my testimonial: "Earthbag building is a growing and evolving process, the Earthbag Building Guide is essential for anyone wanting to know what the current best practices are, and to have them explained in a simple step-by-step manner. I loved this book and I highly recommend it to anyone interested in earthbag construction." Tim Merritt, Emergency Shelter Kits
"I have read many books on natural building over the last few years but it is only now that I have reviewed your book with a critical eye that it occurs to me just how much research, knowledge, experience, sifting of resources, and proficiency of prose is required to actually compose such a volume. It is concise, detailed, easy to follow, and beautifully illustrated. I want to congratulate you for being successful in all of these areas and for creating such an extremely well organized and useful guide to earthbag building. Part of me wishes this text had been available before I started my journey into the medium, as it would have saved me a lot of time/money/angst, but I am also aware that it has taken these years and the accumulating knowledge and experience of the entire earthbag community during this time to make such a book possible. I have not seen any of the techniques written any more precisely or accurately than you have here. Nor do I believe that you have forgotten or overlooked any key concepts. I believe this is a first class instruction manual on earthbag construction and I have learned quite a few things from it myself. I love the way you have seamlessly incorporated internet-based resources into your instructions. I think this approach will be wildly successful and extremely helpful to the reader. I guess this is the future of "How To" books and you have done it beautifully here. I am confident that this will be an important compendium to the craft and an essential tool in every earthbagger's tool box. Best of luck, Owen. I look forward to seeing it in print and putting it to use in the field. Many homes will be built from it." Jesse Loving, earthbag home builder
"I have built with earthbags for over twenty years, having helped develop the concept with Nader Khalili in the early 1990's. Of all the texts on earthbag building that exist (including mine), I have to say that Owen Geiger's Earthbag Building Guide is by far the most thorough, detailed and technically useful book on the subject yet to emerge. I will be referring to it often in my own projects and look forward with keen interest to forthcoming titles from this talented researcher." Joseph F. Kennedy, editor The Art of Natural Building and Building Without Borders
"Earthbag construction is the most green and sustainable method of construction that I know of and it just got easier. This book is like having a coach with you on site who shares his wonderful knowledge step-by-step. This is the best investment, in time and money, any Architect, Engineer, Builder, or Home Owner can make. I love this book." Dr. Bill Taha, S.E., President, licensed in 28 states, Precision Structural Engineering, Inc.