This website was conceived, written, and organized by Kelly Hart and Dr. Owen Geiger in an effort to bring the concept of earthbag building to the broadest possible audience. It is offered with an attitude of good will toward all of those who might employ the ideas and further this very sustainable approach to building.

Kelly Hart is the host of www.greenhomebuilding.com and www.dreamgreenhomes.com, and has built his own home using the earthbag technique, which can be seen here. He has adapted the concepts popularized by Nadir Khalili and his "superadobe" building, by filling the bags primarily with crushed volcanic rock. This creates insulated walls that are similar to strawbale, except that they are completely impervious to damage from moisture, insects or rodents. Kelly has produced a video, titled Building with Bags: How We Made Our Experimental Earthbag/Papercrete House, which chronicles his adventure of building this house, and shows other earthbag houses as well. He has also written a book about Earthbag Architecture, available through the resources page. Email: kellyhartATgreenhomebuilding.com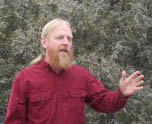 Dr. Owen Geiger, Ph.D.( in Social and Economic Development,) was the former Director of Builders Without Borders and was the Founder and Director of the Geiger Research Institute of Sustainable Building. He was an author and builder specializing in strawbale construction, earthbag, and other types of sustainable building. He co-authored the Builders Without Borders Straw-Bale Construction Guides and contributed to Building Without Borders: Sustainable Construction for the Global Village. Dr. Geiger has consulted on numerous international housing projects, worked closely with Habitat for Humanity for seven years and mentored housing officials with the United Nations Institute of Training and Research. Owen wrote a PDF Earthbag Building Guide, available through the resources page. Owen died on November 6, 2018.
See this link for a description of our Privacy Policy.
Hartworks LLC and Kelly Hart participate in the Amazon Services LLC Associates Program, an affiliate advertising program designed to provide a means for sites to earn advertising fees by advertising and linking to amazon.com.