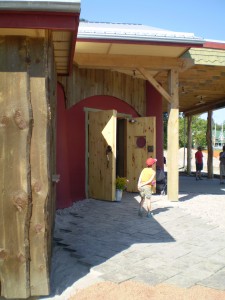 The Fleming College Sustainable Building Design & Construction Progam project in 2008 was the Madoc Performing Arts Centre. Students of this annual summer program began construction of a new, sustainable performing arts center in Madoc, Ontario, Canada. "Sustainable living doesn't have to mean less comfort, beauty or performance,"says Chris Magwood, this year's designer and lead instructor for the program.
Since 2005, students of this program have been building sustainable public buildings for host communities. The buildings mix low impact, low technology materials with high-tech mechanical and energy systems. Previous projects have included a thrift store, a food bank and a classroom.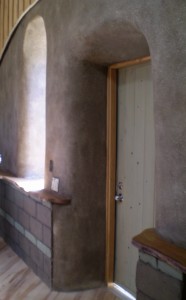 This year's straw bale building features geothermal heating and a large photovoltaic power system, making it free of fossil fuels and polluting emissions. Magwood, who was recently named one of Canada's "Eco All-Stars" by Harrowsmith Magazine , has a history in straw bale building as the co-author of three instructional books on how to plan, design and build with straw. The building is expected to be the greenest building in Canada.
The basis for the foundation for the Madoc Performing Arts Centre is a rubble trench. This type of foundation uses compacted stone in an excavated trench to provide bearing capacity for the building above. We use a grade of crushed limestone called "3 inch minus" which includes any aggregate that would fall through a 3 inch screen. This type of material can be well and evenly compacted. The compaction is done with a mechanical plate compactor, and is done after adding a depth of 12 inches of stone at a time.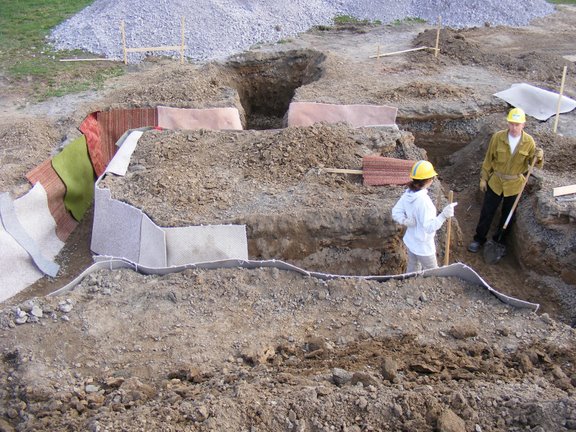 The sides of the trench are lined with a material that will keep the soil from migrating into the stone. In our case, we used recycled carpeting for this task. The bottom of the trench has a drainage tile running in it, which slopes to carry water away from the building. This type of foundation is strong (the same type of compacted stone foundations support roads, railway tracks and other high-load situations), is self-draining, and is not prone to failure due to cracking like solid (concrete) foundations.
Our main reasons for choosing a rubble trench foundation are:
Low embodied energy (local crushed stone has been minimally processed and transported)
Low cost (no formwork, very little labour)
Good performance (no concerns about leaks, cracks or other failures)
High strength (compaction figures well established)
On top of the rubble trench, we have employed two different styles of grade beam foundations.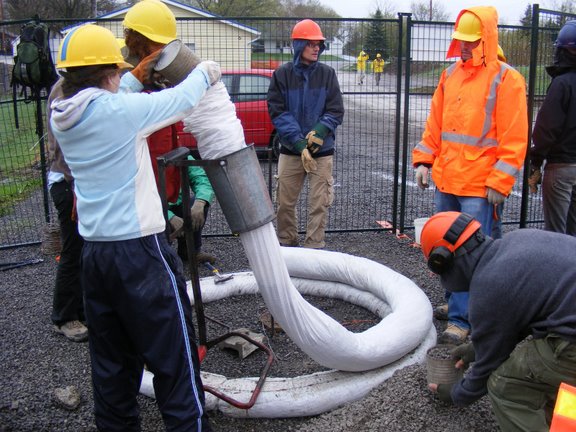 The earthbag grade beams that supports the main octagonal space are composed of woven polypropylene sack material that we obtained as a continuous tube. These tubes are filled with a site soil mixture of gravel, sand, silt and clay and then compacted firmly.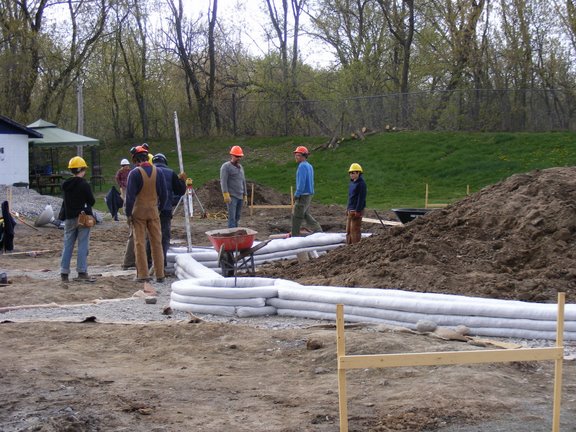 checking levels for the third earthbag course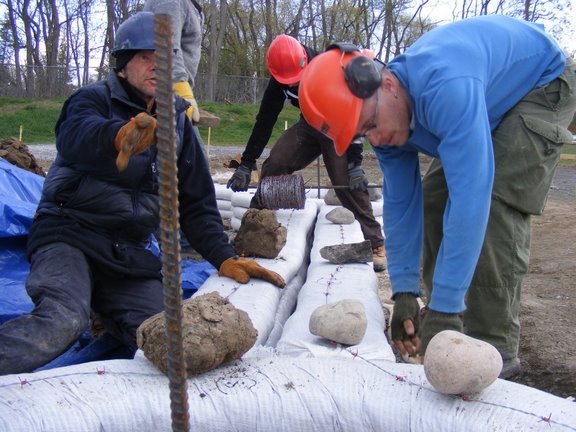 Barbed wire is run between each course of earthbag to prevent slippage. We used two parallel runs of narrow bag with insulation (hempcrete) between the runs. Earthbag foundations are very low cost, and are strong enough for a large building like MPAC. They are quite easy to build as they don't require formwork.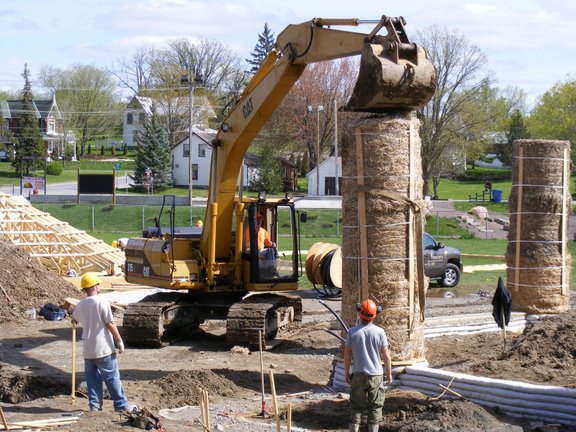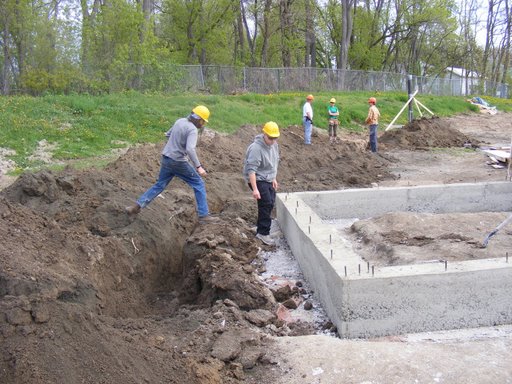 The hempcrete grade beams are being used for the first time ever on this building. Hempcrete is a mixture of chopped hemp, hydrated lime and a small amount of either portland cement or quick-set gysum. A reaction between the lime and the hemp results in a very lightweight material that still has reasonable compressive strength. The advantage of hempcrete over regular cement is that the hempcrete is both structural and insulative, so both ends are achieved in the same pour. It is also lower in embodied energy. The disadvantages are a longer set time (2-4 weeks) and lower strengths. However, where the high ultimate strength of concrete is not necessary, this option works well.