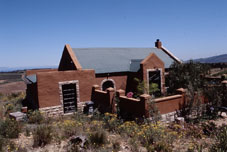 Driving up and up to what seems like the top of the mountain, on an estate called Weddewil which backs on to historic Vergelegen above Somerset West, we're expecting to arrive at a sandbag bunker of some kind. Well, something basically functional.
But Tatu Penrith's haven on top of the world turns out to be an appealing terracotta and green house with thick walls that give it an earthy, handmade look. Perched on a fynbos slope, it has the most sublime view ever, overlooking vine-covered hills and the awesome blue stretch of False Bay.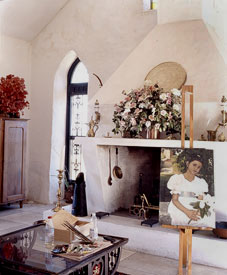 Inside, past huge double doors, is an extraordinary high-ceilinged space that takes your breath away. More like a church than a living area, complete with unobtrusive stained glass windows above the chimney. Almost as an afterthought is the separate small studio at one end, and the bathroom. A deep, covered stoep runs the length of the house, looking out onto the sensational vista.
One thing is certain. You would never guess that behind the plaster, behind Tatu's quirky collection of antique wood and rare treasures adorning these walls, are hundreds of sand-filled cloth pillows, packed tightly into a steel-reinforced wooden frame, and then covered with wire mesh. Only when you knock on the walls do you notice the sound is different, not as dense as knocking on brick. Which is why sandbag walls make for such superb acoustics. When Tatu practises her classical guitar here, she says she's transported.
But sand has never had much good PR. 'Everyone kept telling me "Don't you know the story of the three little pigs?"' Tatu says with a laugh, in a deep brusque voice that sounds as if she's just finished off three packets of Camels. 'It's all nonsense. Compacted sand is even stronger than brick. You couldn't shoot through these walls with an AK47. That's why sandbags were used in army bunkers. They can withstand bombs and bullets.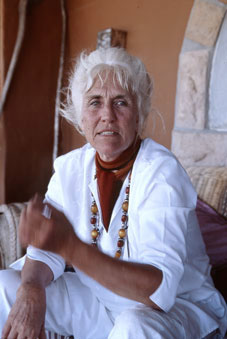 'These walls take nails and hooks and tiles just like conventional brick and plaster. You can hang anything you like except a hammock. The plaster's too thin for that. And sandbags are much cheaper than bricks, as well as being warm in winter and cool in summer. Best of all, you can use unskilled labour. We used the women from Sir Lowry's Village down the road, and they sang while they packed the bags.'
She built the house two years ago with the help of her architect daughter Tamar Grover. 'I wanted just one big room I could paint in and eat in and sleep in. But Tamar said "Ma, you need a place to pee!''.'
The place to pee is a helluva lot more than that. Opening on to an outside shower and that heavenly view, it's a diva's bathroom, full of exotic paraphernalia that includes a beautiful little antique makeup dresser, a Victorian ball and claw bath, and King George's wooden washstand from the White Train, which is attached to the wall and fully functional, with old brass taps that gush forth with abandon with little persuasion.
Equally distinctive is the loo itself. Tatu found a wide flat wooden seat, painted it gold and decorated it with exquisite tiny Oriental maidens playing musical instruments.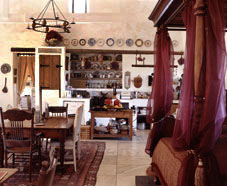 Nothing in this sand house is predictable. In the centre of the main living space wall is a magnificent Cape Dutch four-poster that belonged to Tatu's mother. 'She claimed it came from Jan van Riebeeck but we never believed her.' Now draped with purple organza curtaining and piled with cushions, it's so high you need to step on a railway sleeper to get there. It wraps itself around you, so it's a place where guests tend to congregate.
But it's not Tatu's bed. It's a décor centrepiece pulling together the whole huge room - kitchen/dining area on one side and fireplace with sofa and wingback chairs on the other. Tatu's bedroom is the stoep. There, in a protected corner, she has a big double bed where she sleeps out with the stars in summer and winter. Guarded by her Great Danes, she watches the moon rising, and in the morning wakes to the dawn chorus - and the mournful calls of the neighbour's seven peacocks.
'On cold nights I just snuggle into my duvet. With a view like this, why would anyone want to ever be inside? The feng shui is perfect: the surrounding mountains are my armchair, the hills my footstools.'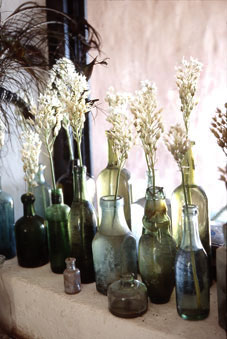 A colourful Moorish mosaic tile effect covers part of the stoep floor. Tatu did it to contrast with the worn ceramic tiles she painted on the floor inside. She's one of Cape Town's top paint effect specialists and works with some of the city's most well-known decorators, creating cherubs on ceilings, Rousseau jungles on walls and carpets on floors.
She's painted Japanese cranes in President Thabo Mbeki's Eastern room at Groote Schuur, Zulu baskets on the walls of the Zumas' Cape Town house, and orchids falling from a pergola on the ceiling of Wendy Ackerman's bedroom. Probably her most unusual commission though, was for Margot Gawith as a light-hearted memorial to her late husband: lifesize perspex cut outs of the couple happily toasting each other in champagne, seated at a real table in Margot's Bishopscourt garden.
She can paint anything to make it look like anything you want. One of her trompe l'oeil archways in a client's house was so realistic the carpenter tried to walk through it. She created such truly ancient cracks for Etienne Bonthuys in the walls of his Floris Smit Huijs restaurant that when a building inspector saw them, he joked: 'Lady, you put another of those cracks in the wall and I'll be forced to give you a demolition order.'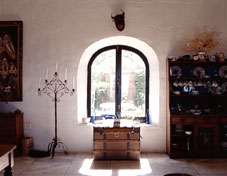 Surprisingly, she's never painted a mural in her home. 'It just doesn't appeal to me. But I do want to paint a dragon on my bathroom floor.'

She works with Argentinian mural artist Mario Lucangioli, her painting partner of 15 years. It's more fun and less lonely. 'Our minds just click. We know exactly how the other one is thinking.'

Though Mario has a partner, Allie, he married Tatu as a favour after her mother's will stipulated that her daughter would get none of her inheritance if she remarried her ex-husband of 16 years, Jim Penrith, a former Argus African News journalist who now lives in Wales and with whom she has four children.

'Marrying Mario was one way of convincing the trustees to part with the money,' Tatu says with a grin, 'but the marriage does confuse people.'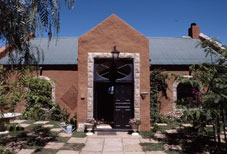 More and more drawn to painting her own pictures with a view to exhibiting, she says the challenge is to know which is her own artistic direction. 'I've been a prostitute for so long, producing whichever style the client wants. But I love home work, sitting here at my easel, moving it around to wherever the light's good.'
One of her greatest creations is without doubt her sandbag house. 'When I come home I feel such an upliftment. My spirit expands.'

For another article that describes the system used to create this house see Eco-Beam and Sandbag Homes.