Ecovillage Training Center, Summertown, TN
Built in a single day (4/16/02) by 4 people.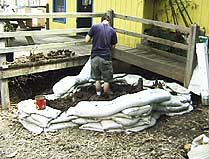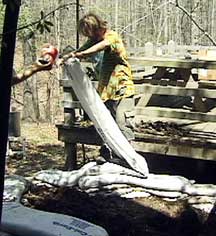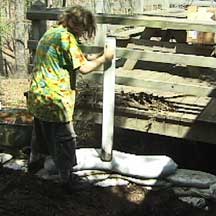 Materials :

20 feed sacks
40 feet of CalEarth tubing
10 yards of sifted clay
25 lb of Portland cement
25 lb of sand
15 1 meter-squares of burlap
1 liner for water feature, and a few flat rocks
Coffee tin, hoe, shovel, wheelbarrow, gardenhose, trowel
Water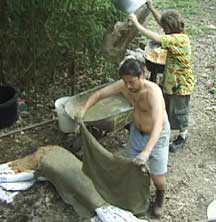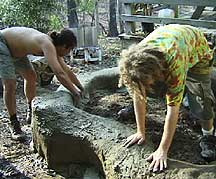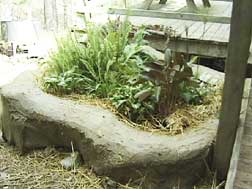 Recipe:
Fill earthsacks and tubestock with mixture of 95% sifted subsoil to 5% cement. Lay wall in desired shape.
Tamp bags hard and flat as they are lain, and tuck in any loose corners.
In wheelbarrow mix 3 parts sand to 1 part cement and 1 part sifted clay. Add water to make VERY wet slurry. Keep adding water as bags move through.
Dip pre-moistened burlap squares and apply to wall, shingling in lower sections below top of wall.
Stiffen remaining slurry mix with additional sand and apply to top of wall and any thin areas.
A whitewash or clay-lime render can be applied as a finish coat.
Add humus and plants. You're done.